Gift From Hud.Org, Thank you my friend. I'm also happy become your friend. In this year, i have got many friend. Also sister that i know him from his blog. She very nice, i'm happy become his friend. Hud.Org give me this :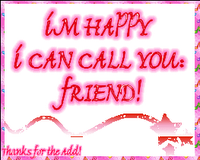 I have many friend in Blogger, from many state and another country. This gift i want to give it to My Best friend too.. Who it's? here the list :-


Plarch

(must take it.huhu)


Farah

(take it if you free)

Ryehannaz

(take it if you assume me as friend)

Wansyir

(hope you take it)

TQ my friend. Also if you are not in the list and you want it, you cant take it too. Free support Solehpolysas Blog


**Pelawat yang disegani:- Berikan komen anda selepas membaca artikel dan membuat sebarang trick didalam blog ini. Komen anda membolehkan saya memperbaiki dan mempertingkatkan lagi kualiti blog ini. Komen anda amat dihargai. Terima Kasih.